"Nature is our most powerful source, much of what we need to protect, support and maintain our health is present there," says founder Alfred Vogel. That is why A.Vogel products are developed and freshly processed with home-grown plants from privately owned gardens to get the best out of nature. Yet, the A.Vogel brand is experienced only as relevant to some. The new campaign reminds people of the effectiveness of nature.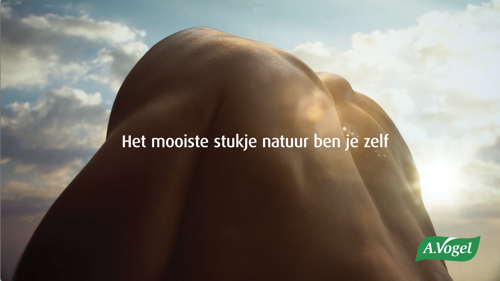 You are the most beautiful piece of nature yourself!
For A.Vogel, nature is the base of a healthy life. It is the foundation for everything they develop. After all, nature is naturally healthy. Less self-evident is the idea that we are also part of it. Therefore, the renewed brand idea is "The most beautiful part of nature is you" ("Het mooiste stukje natuur ben je zelf").

Our body has numerous natural processes, robust systems and a solid therapeutic capacity. You can only take care of such a lively landscape with the best: The natural products from the gardens of A.Vogel.

"We claim a domain that makes the use of natural products for self-care conditions a logical choice. A.Vogel offers the best solution for this" (Karin Peters, Manager Brand & Communication at A.Vogel).

TV Commercial
Nature and people are inextricably linked. The TVC innovatively portrays the human body: the most beautiful piece of nature in the most pure and honest way. This concept was translated into image together with director Maarten Groen. Jacqueline Govaert provides the voice-over.

"Nature is undeniably healthy. With this campaign we embrace our body as a 'nature area'. A manifesto for taking care of your body with the most natural maintenance our bodies can receive" (Michelle Quekel, Creative at The Valley).

The gardens of A.Vogel
The recordings in the brand new ReadySet Studies are a remarkable detail in the production of this campaign. This studio can unite the physical and digital world. As a result the beautiful gardens of A.Vogel, located at the Veluwe woods, have been realistically brought together with the models' bodies and presented as one nature. The campaign emphasizes that nature is all-encompassing. A.Vogel makes you aware that YOU are the most beautiful part of nature.

The campaign will be live from 13 March via Television, Online Video, Social, Point of Sale & Radio.

Credits
Agency: The Valley, Gijs ten Buuren (Strategy), Michelle Quekel (Copywriter), Thom Rijckevorsel (Art Director) and Sheldon Bont (Creative Director), Wouter Koot, Inanna de Cozen and Eric Smit (Production).
Production company: Dppler, Maarten Groen (Director).
Sound: Heron Music
Post-production: The Compound
Client: A.Vogel, Karin Peters (Manager Brand & Communication) and Karin Pelleboer (Team Manager Marketing), Jimke Scholten (Commercial Manager)