Looking to grow your brand's design without the headache? You're not alone. In the digital age, making your brand stand out while staying true to its identity can be tough. Here's the secret sauce: a design system. With this in place, your digital products aren't just good-looking - they're a joy to use, no matter what platform or device your customers prefer. And the cherry on top? It's smart to roll out new products or campaigns without blowing your budget.

Peeling Back the Layers of a Design System
Think of a design system as your brand's personal style guide. It's a set of instructions that cover everything - from fonts and colors to how your website's buttons should look and feel. It's your design secret weapon, custom-made for your business, making sure every customer touchpoint reflects your brand's identity. When you work a design system into your daily operations, that's when the magic happens. It gives your teams the know-how to create a unified brand experience. Say goodbye to inconsistency and hello to a streamlined workflow that helps your business grow faster.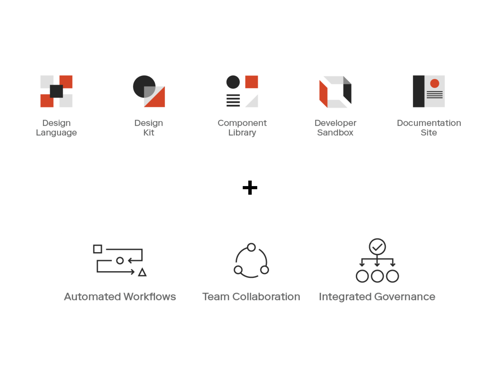 How can we lend a hand?
We've been helping brands like yours turn their vision into a tangible design system for nearly two decades. Our team of design pros, developers, and strategists are ready to team up with you, understand your challenges, and exceed your goals. Starting from scratch or refreshing an existing design system, we're with you every step of the way, creating a design system that'll make you stand out from the crowd.

Let's chat about your design
Ready to give your customer experience a boost and let your brand really shine? Let's go on this journey together. Get in touch for a chat, and let's make a design system that'll shape your business's future. Experience the power of cohesive design, let your brand's potential run free, and make your audience fall in love with your brand all over again.