An icon in fashion, cosmetics and lifestyle, in 2020 it will be no less than 150 years ago since de Bijenkorf opened the doors of its very first location. This will be cause for celebration all year, kicked off by a new brand film created in collaboration with director Judith Veenendaal.
Magical experience
There is an undeniably magic to de Bijenkorf experience that's easy to describe but challenging to capture. The 150th anniversary film manifests this magic through an abstract journey through key aspects of de Bijenkorf. Opening with a woman who is captivated by the classic shop windows of de Bijenkorf. From the moment she's pulled in, an enchanting tour arises. It's her curiosity that literally draws her (and therefore the viewer) through the shop window, so we end up in an abstract "backstage experience". A magical place between the walls of the most beautiful department store in the Netherlands. The various themes tha make de Bijenkorf so special come together in an artistic way: fashion, perfume, design and food. The wonder of women and reality constantly merge. Is it real or not? She is slowly transforming into an appearance that you cannot ignore. A character that inspires the viewer.
Special shop windows
The magic of de Bijenkorf starts on the street outside, with the windows that can be admired as works of art all year round. The shop windows inspire and can literally enchant you. "Through customer research, we inquired about the first memory of de Bijenkorf, nine out of ten times the shop windows are mentioned first," said Inge Konings Campaign Manager of de Bijenkorf. "De Bijenkorf has a magical effect on people. For the "150 Years Special" campaign, The Valley has translated that feeling into a modern fairy tale."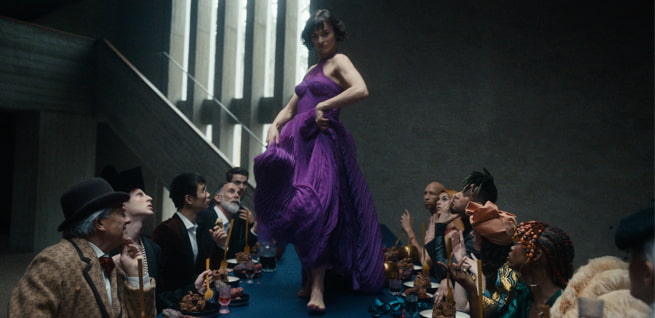 Surrealistic approach
The art direction, a nod to Guy Bourdin, plays an important role. The reality and perception of women are constantly merging. By enormously shedding objects and playing with light, we can alienate and amaze. From the fashionable styling, the materials and the color palette to the famous cakes and crockery. The rich feeling of de Bijenkorf can be felt in every shot. Just like with a real visit.
150 Years of Bijenkorf
De Bijenkorf is a shopping experience where time can stand still for a moment. Where everything revolves around you and where you are helped with all the attention. For 150 years de Bijenkorf has been offering visitors new memories every time, whether you buy something or not. Inge Konings: "The whole of 2020 will be dominated by special people, stories and products. De Bijenkorf is a place where everyone can feel special."
Credits
De Bijenkorf
Inge Konings, Laura Heeren, Marjolijn Meynen
The Valley
Creatie: Alexander Braam, Michelle Quekel
Creative Director: Sheldon Bont
Strategie: Gijs ten Buuren
Account: Francis Verdouw
Producer: Eric Smit
Czar
Regisseur: Judith Veenendaal
DOP: Noël Schoolderman
Executive Producer: Willem Bos
Producer: Fenna Breitbarth
Kapsalon
Editor: Brian Ent
Crabsalad
Compositing & Colour Grading: Laurens Orij
M-OST Audio Post
SoundDesign: Stephan Bakker
Muziek
Composed and produced by: Remy van Kesteren & Richard Veenstra