In secret, they worked on it during the past months: Hertog Jan Ongekend.
A range of very limited specialty beers that you taste before realise what you actually just enjoyed. The beer comes in matte black pitchers with a minimal amount of information. The packaging is neutral carton as well. The beer doesn't even have a name, just a code of numbers and letters. The first one is called HJA15/1. There's nothing that gives away what kind of beer you can expect.
The bottom of the packaging includes a small black envelope. The customer opens this after he/she tastes the contents. Besides a note with information about the beer, the envelope contains a URL. In an online video brewer Roland, who was asked to brew his own beer for the occasion, explains more about the emergence, the ingredients and the brewing process.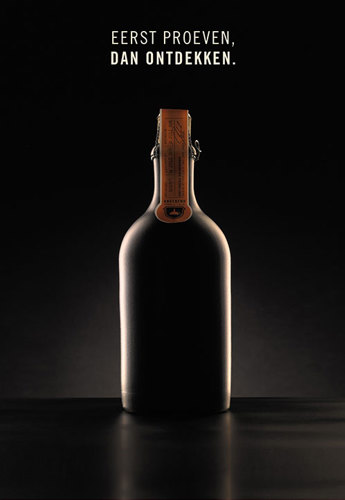 This concept isn't like a traditional ad campaign but a mix of product, story, design and PR. This form of marketing, where product and advertising are actually combined, is extremely rare in the Netherlands (and even worldwide). Certain projects are only possible when all parties - client, creative agency, packaging-design agency, media agency and PR agency - collaborate from the start. That is what happened in this case. The Valley and Hertog Jan collaborated in the development of the Hertog Jan Ongekend concept. The packaging then followed. It was created through collaboration between advertiser, creative desk and design desk Osborn Pike. In this process, Vizeum and PR expert Fiona de Lange determined the best possible way to deliver the concept to the customer.
The campaign consists of the pitcher, the packaging, the taste note, videos, an action website, pre-rolls, Facebook posts, store materials, events and PR. True Omnichannel marketing that The Valley specialises in.
On Saturday September 5, beer lovers stood in line for an exclusive pre-launch at the brewery in Arcen. The first pitchers signed by the brewers are already available online. Hertog Jan Ongekend is available from September 10th from Jan Linders and Mitra. The pitchers are also available in the Hertog Jan Vriendenkring-bars. Those who want to enjoy this taste experience should act fast; Hertog Jan Ongekend is very limited. Of every beer, no more than the contents of a single cauldron is brewed. After that, it's gone!
Two more of these unique taste experiences will follow later this year: the HJA15/2 and the HJA15/3.
Credits
---
Advertiser: Hertog Jan (Inbev Nederland)
Client: Erik Soeteman, Carmen Helmink, Joost van de Sande, Paul Rijks.
Agency: The Valley
Creation: Andrea Jansen, Joost van Praag Sigaar
Creative Director: Krijn Smits
Strategy: Sytse Kooistra
Account: Mariëtte Vermeulen, Judith Weijers
Design Agency: Osborne Pike
Media Agency: Vizeum
Production Agency: Filmgasten
Photography: Hans Pieterse
PR: Fiona de Lange (AlleZ PR & Communication)
Campaign Website: SiteSupport